BLACKPINK has become an Asian artist in general, and Korea in particular is at the top of this chart…
On November 10, Bloomberg, the world's biggest data group, announced the November powerful Pop Star chart and drew great attention with the final results. The most special thing about this month's chart is the presence of BLACKPINK . The YG female group has become the first artist in Asia in general and Korea in particular to top this chart.
BLACKPINK excellently topped the November Power Pop Star chart, …
Even, BLACKPINK also ranks above a series of famous names such as Pop Smoke, Cardi B , Justin Bieber , Ariana Grande … and the "legendary rival" BTS . Many people find it difficult to understand because the 7 Big Hit boys are ranked 10th in this chart while there are many great achievements. The powerful pop star chart is compiled based on categories including total concert ticket sales, album sales, Spotify streams, YouTube views, and Instagram interactions.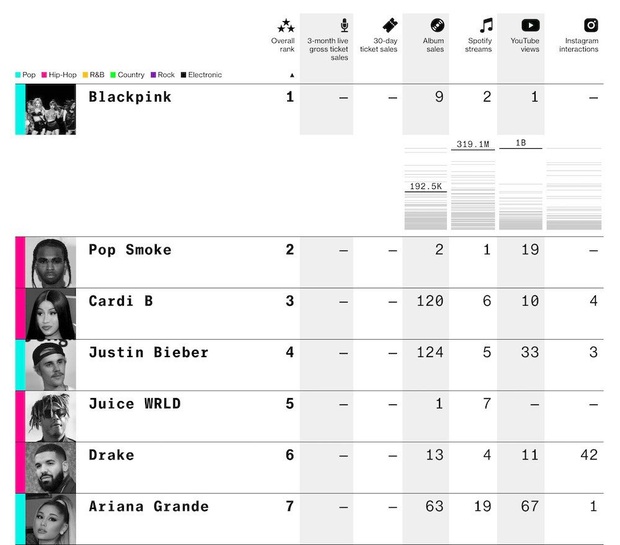 … on top of a series of cult stars like Cardi B, Justin Bieber, Ariana Grande …
… and also "rival BTS"
Sheet Bloomberg also spend a lot of fine words for 4 girls YG as "BLACKPINK just 3 minutes 16 seconds to blow your mind", "The girl is the star, great music and compelling" … BLACKPINK has now become the "queen of YouTube", has 2 MVs with over 1 billion views, is the second most popular group on Spotify.
The powerful pop star chart of this famous magazine has summarized BLACKPINK as a world-class music artist.
Source: Allkpop