BLACKPINK and TWICE both stopped music suddenly during the performance, but the two groups have different ways of handling…
No matter how carefully prepared, Kpop idols cannot avoid sudden incidents that arise on stage, such as when acting, music turns off. This can happen when the sound system is not guaranteed or faulty BTC. But whatever the cause, this is still a great challenge for many groups, requiring them to possess the ability to adapt quickly.
Without an appointment, BLACKPINK and TWICE both had suddenly turned off the music while performing. However, their ways of handling are vastly different, which partly shows the singing skills and ability to master the situation of the two top Kpop girl groups.
BLACKPINK: Accepting to sing "vegetarian" but still extremely well
The music shutdown incident occurred with BLACKPINK when they performed at a university in May 2018. At the end of the song BOOMBAYAH , a loud noise was heard while the group was performing and then the music was "quiet". Lisa was bewildered through the fancam , and Jennie was startled with fear while Jisoo quickly made a joke to keep the heat.
Lisa was bewildered, Jennie was scared because she was startled and Jisoo made jokes to make the atmosphere less awkward.
After a few seconds of waiting and seeing that the problem didn't seem to be fixed quickly, Rosé called on the audience to harmonize with them and the girls decided to sing "vegetarian". There is no accompaniment, but BLACKPINK still confidently sang clearly and clearly and ended in the enthusiastic cheers of the viewers.
After the performance ended, BLACKPINK received a "rain of praise" because not only did not lose their temper but handled the problem very professionally. The fact that the 4 girls accepted to sing without accompaniment also showed that they were confident in their ability to sing live even though the group had only debuted for 2 years.
Under the BLACKPINK video, netizens commented:
– For those who say BLACKPINK can't sing.
– Rosé is a professional artist. She immediately turned around to ask what happened and planned to continue.
– Although startled, they still sang.
– I was afraid they couldn't sing because the MR Removed videos and this proved they could sing completely.
BLACKPINK still owns the stage well even though the music was turned off in the middle
TWICE: Confused when the music is off, netizens argue whether or not to lip-sync
TWICE was put in an awkward situation when performing at Dream Concert (June 2017). When the show Signal only started for a few seconds, the music stopped at the same time Chaeyoung was singing, making her surprised and confused as to what to do.
Then the members laughed, shouting "Surprise?" (surprised yet) and make jokes to warm up the atmosphere, but the group's expression is awkward and awkward. Fortunately, the problem was handled quite quickly, TWICE continuously got into position to perform again from the beginning.
TWICE's response was criticized by netizens as being unprofessional and incapable of adapting quickly. So Chaeyoung raised his voice quite low at the moment the music stopped, so controversy broke out right after that.
Some people think that the girls lip-sync, so it's awkward when there is no accompaniment, but they insist that TWICE is still singing live because they hear Chaeyoung's voice. However, it is hard to deny that the group is too dependent on the backtrack (the singing part is pre-recorded) so it is not confident to show off the real voice.
TWICE was criticized for being embarrassed when the music was off, many people suspected the group lip-syncing
Some comments under the video TWICE have trouble turning off music as follows:
– lip sync? You can hear Chaeyoung singing "bo-ne" after the music stops.
– Can hear her voice after the background music is turned off, they sing very softly and depend on pre-recorded music
– Well, they sing, but how does she sing when the music is off, and her voice is louder with music?
– Even if they don't lip-sync, why do they stop? 2NE1, BLACKPINK, Apink and many other groups all continued to sing and don't forget that this time if they don't lip-sync, they won't be able to change other times. I don't hate it, I personally like TWICE's music but fans have to admit that these girls are not the best. I hate when ONCE slanders other groups because they are not as popular as TWICE even though they are much better.
Conclusion
TWICE and BLACKPINK both have a problem in their acting and lose music when their career turns to the second year. It can be seen that even though this is a technical problem that no one wants, it is an opportunity for the girls to prove their ability and their ability to handle the situation, but their performance was far from different.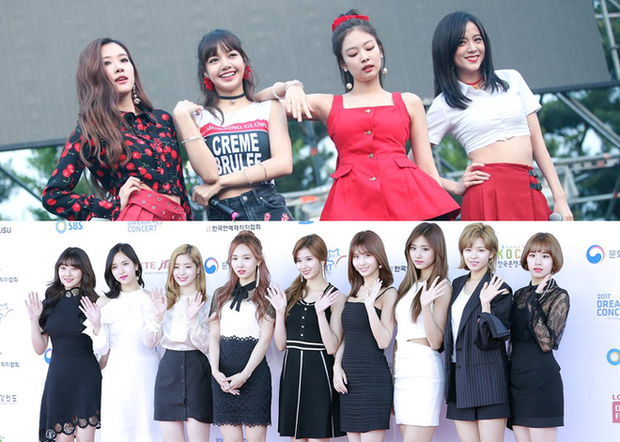 As the 2 top Kpop girl groups, having problems in the second year of their career, the skills of BLACKPINK and TWICE are not the same.
Source: YouTube – Screenshots, Internet – Video: YouTube